What is the best time to travel to Washington, DC?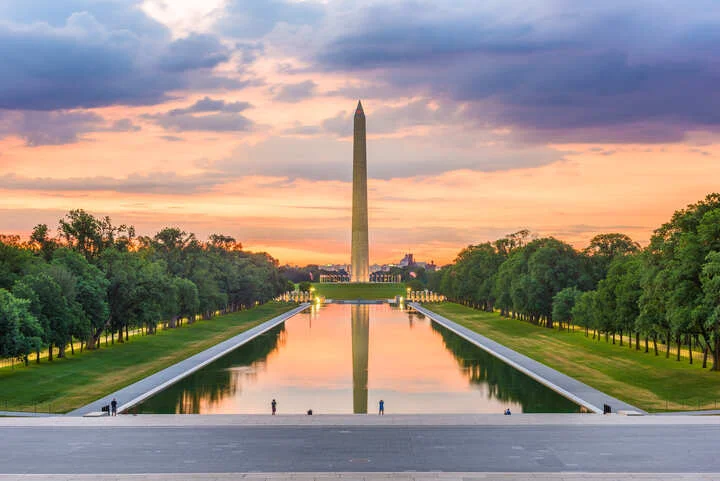 Fall is the best time to travel to Washington D.C. (September to November). It's pleasant, the crowds are smaller, and there are still many things to do in the city.
This guide will help you plan your trip to Washington, DC, no matter what time of year. To ensure that you arrive in Washington at the best time possible, apply for the Visa Waiver Program Ireland couple of days earlier.
Festivals and Events of Popular Interest
There are many events throughout the year that draw large crowds. However, the National Cherry Blossom Festival (late march to early April), Memorial Day weekend, and the 4th of July are the most popular. Thanksgiving weekend, Christmas week, and Easter weekend are also busy times. Large school groups visit the National Mall and its museums in spring. You will want to see D.C. in its most active period (e.g. during the Cherry Blossom festival and marches that draw large crowds), so make sure you book your accommodations early. Also, be prepared for massive crowds on weekends.
Washington D.C. – Managing the Crowds
Millions of tourists visit Washington D.C. each year, filled to the brim with tourist attractions, museums, and historic sites. Expect long lines at the most popular attractions if you visit in peak season, spring or summer.
You should not take the Metro if you're attending a packed event. Instead, ensure you arrive at a station further away from your destination. You may be able to avoid long lines by walking a bit further from the nearest station.
You can avoid the crowds by exploring some lesser-known attractions around the city, such as the National Mall. Washington, DC, is home to many fascinating museums, parks, monuments, and other attractions. You can visit historic houses and museums throughout the city or look at the museums in Dupont Circle. Admire the architecture of Embassy Row as you take a stroll. Enjoy a walk in the park or take in the views of the Potomac River.
The Weather in Washington D.C.
The city's Mid-Atlantic position means that the weather is mild. There are four seasons, which are roughly equal in length. Winters can be cold and snowy, with temperatures hovering in the 30s to 40s. Although D.C. winters are often mild, it can get freezing in January. However, the National Mall has seen some very cold inaugurations.
One thing is sure: The summers in D.C. can be sweltering and humid. Average temperatures are in the 80s, but sometimes it can get into the 90s. If you plan on sightseeing in August or July, bring plenty of water and wear comfortable clothes. There are many museums that you can visit during the hot summer months. Washington, D.C.'s spring and autumn weather are ideal for sightseeing.
Peak Season in Washington D.C.
Hotel rooms can become very expensive due to the high demand for accommodation in Tidal Basin, known for its beautiful cherry blossom blooms yearly. When school is out, tourism also increases in the spring and summer. But, D.C. remains a business destination, and high-profile conferences and conventions can cause an increase in hotel prices. Sometimes, you can get a discount on hotel rooms for the weekend.
January
Although the winter weather in Washington, D.C., is unpredictable, it will likely be cold and snowy. Winter is the most peaceful and uncrowded season. This makes it an ideal time to visit museums, take in live entertainment or go ice skating outdoors.
February
You can expect cold and windy February weather in D.C., but it could also be ideal for Valentine's Day.
March
Spring is beginning to arrive in D.C., with temperatures in the 50s to 60s (although you might encounter days that feel more like summer). It would help if you packed appropriately as there is always the possibility of rain.
April
The perfect time to visit the National Mall, the monuments and other memorials are when the weather warms. Guided tours are top-rated as they offer many ways to see the city's best attractions.
May
Spring in Washington, D.C., is in full swing. The weather is typically in the 50s to 70s, but it can sometimes get into the 80s. It's a beautiful time to be outdoors.
June
Summer is a great time to visit the capital of the United States, even though school is out. Although it will be hot and humid, many visitors will still see the money. There are many outdoor movies and concerts that you can enjoy throughout the summer.
July
You should be prepared for heat and crushing humidity. July temperatures are typically in the 80s and the 90s. According to the Washington Post's weather experts, this month is D.C.'s hottest.1 Outdoor festival and other activities are still a big draw.
August
Another scorcher is the average temperature, which hovers in the 70s and 80s but could quickly rise to the upper 80s. It can also be a more peaceful time in the city, with children returning to school and politicians taking an August recess (and everyone involved with the government heading to the beach).
September
Fall is a great time to explore the city on foot and participate in various activities. Washington, D.C., becomes a great place to enjoy the fall foliage and outdoor recreation as soon as they change.
October
You will only need a jacket in October when it is mild and hovers around 60-70 degrees. Enjoy a walk in Rock Creek Park and the changing leaves, or participate in Halloween events.
November
As winter approaches Mid-Atlantic, November brings shorter days and more cold. Warm clothing is essential as temperatures hover in the 30s and 60s at highs.
December
Washington, D.C., is stunning during Christmas, whether it be the vast red bow decorations at Union Station or the glittering National Christmas Tree. White Christmases in D.C. are rare. Sometimes the weather is mild, with temperatures in the 50s. However, it can drop to the 30s or 40s.