Apply for ESTA travel authorization
ESTA Visa Ireland – Irish travellers can apply
ESTA Visa Ireland provides information regarding United States visas and the Electronic System for Travel Authorization, operated by a private company. This website also provides links to a third-party website that provides ESTA assistance and submission services. These services are provided by a private company not associated or affiliated with the US government but that specialises in submitting applications to the Electronic System for Travel Authorization. It is not a requirement to apply with a third-party website. You can submit your own ESTA application directly at the official United States government website.

ESTA Visa Ireland - We make it easy. Try our simple 4 steps application system:
Step 1

Start ESTA Application

STEP 2:

Complete ESTA Application

STEP 3:

Approve Secure Payment

STEP 4:

Get Your ESTA by Email
ESTA Visa Ireland requirements
Irish citizens entering the United States under the Visa Waiver Program are required to apply for ESTA (Electronic System for Travel Authorization). ESTA Visa ireland is a required "travel permit;" it is not a U.S. visa. It has been a requirement since January 12, 2009. All applicants must also have a valid machine-readable passport or ePassport. The conditions apply to travellers entering the United States by air or sea under the Visa Waiver Program. Irish travellers without an approved ESTA Visa Application or a valid U.S. Visa may be denied boarding on all U.S.-bound flights. Since December 2018, the U.S. government has recommended that all Irish applicants apply for ESTA 72 hours before departing a U.S.-bound aircraft or cruise to the United States.
For Irish citizens, the ESTA Visa Ireland allows them to travel to the United States with minimal hassle. In the last decade, there has been a significant rise in Irish tourists to the USA. There has been an increase in American tourists.
Due to the advanced security checks-up system, ESTA applications take significantly less time than similar travel permits. Most applications are processed within a few days. Travellers from Ireland will need to show their passports to the border officials to gain entry to the USA.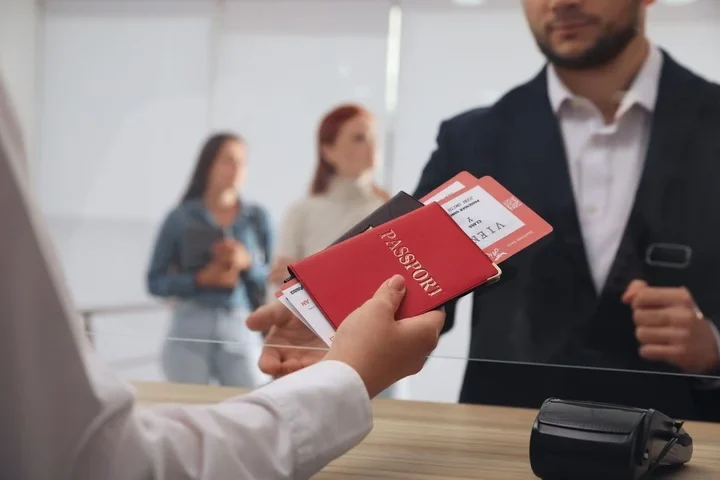 What is an ESTA Visa Ireland?
ESTA is an abbreviation for the "Electronic System for Travel Authorization." It is an online application system developed by the United States government to pre-screen travellers entering the country under the VWP before they are allowed to board an aeroplane or ship that is bound for the United States. You can stay in the United States for up to 90 days, or use ESTA for transit. An ESTA Visa Ireland and a US Visa are not the same and are only an entry requirement for passport holders from visa waiver countries, which includes Ireland.

List of Visa Waiver Countries
As of 2022, these countries are part of the VWP:
Andora
Australia
Austria
Belgium
Brunei
Chile
Croatia
Czech Republic
Denmark
Estonia
Finland
France
Germany
Greece
Hungary
Iceland
Ireland
Israel
Italy
Japan
South Korea
Latvia
Liechtenstein
Lithuania
Luxembourg
Malta
Monaco
Netherlands
New Zealand
Norway
Poland
Portugal
San Marino
Singapore
Slovakia
Slovenia
Spain
Sweden
Switzerland
Taiwan
United Kingdom
ESTA FAQs for Irish Citizens
The ESTA application form takes between 10 and 15 minutes to complete. Depending on the service you use, it may take up to 72 hours to know if you are approved for travel or not. Anyone who is denied through ESTA may apply for a US visitor visa (B-1 Business or B-2 Tourist visa).
An approved ESTA Visa Ireland validity typically lasts 2 years, depending on the travellers' citizenship. For Irish citizens, it lasts for 2 years, depending on passport expiration dates. If the applicants' passport expires in less than 2 years, the ESTA will also expire on that same date.
The Visa Waiver Program Ireland (VWP) is a program created by the U.S. government, which enables citizens of 41 countries to enter the USA for tourism, business, short-term study programs and for medical reasons. Citizens visiting the United States under this program can stay for up to 90 days without obtaining a US visa. A visa application can take weeks or months to finalize, while the ESTA application can be completed online within 10-15 minutes. Ireland was added to the list of VWP countries on April 1, 1995.
All Irish passport holders who wish to enter or transit through the United States by air or sea under the Visa Waiver Program must apply for an ESTA Visa Ireland. Each traveller must have his or her own approved ESTA application before being allowed to board any U.S.-bound flight or cruise (including children and infants). Travellers are advised to apply 72 hours before check-in at the airport. Travellers without an approved travel authorisation will likely be denied check-in and boarding at the airport.
Yes. Unaccompanied or accompanied children must be approved by ESTA before they can travel to the U.S., regardless of their age. If you submitted an ESTA request on behalf of a minor, you could review the Waiver of Rights section. As their guardian, you must fully understand and adhere to the ESTA terms for your child(ren). ESTA is not offered to children who are listed on their parents' passports. Children must have an unexpired passport to be eligible for ESTA. Children's passports, which were issued or extended after 26 Oct 2006, are not eligible for the Visa Waiver Program. The document must then meet normal VWP eligibility requirements in that it be machine-readable and, if issued/renewed/extended on or after October 26, 2005, possess a digital photograph of the bearer integrated into the biographical data page. All Children's IDs require a visa to be eligible for the VWP.
If you have been granted electronic travel authorisation, it will be approved. Although this approval confirms that you are eligible to travel to the United States under Visa Waiver Program, it does not guarantee that your entry will be permitted. If you arrive in the United States, a Customs and Border Protection officer may inspect you. They might decide you are not eligible under the Visa Waiver Program or for any other reason allowed by United States law.
Travellers who apply to the United States under the Visa Waiver Program are denied entry. They will be returned to the country they came from or to another country with a round-trip ticket.
If you are:
If you plan to fly to the United States with a non-signatory carrier.
If you are planning to travel to the United States for more than 90 days.
If you believe you are not admissible under the Immigration and Nationality Act SS 212, you will need to apply for a Nonimmigrant Visa before you travel to the United States.
If you are travelling to the United States for business or tourism purposes.
Global Entry (U.S. Customs and Border Protection) is a program that expedites clearance for low-risk, pre-approved travelers upon their arrival in the United States. The United States allows members to enter through automatic kiosks at specific airports.
Program members arrive at airports and present their U.S. permanent residence card or machine-readable passport. They then scan their fingerprints for verification and fill out a declaration. The kiosk issues a transaction receipt to the traveler and directs them to baggage claim or exit.
Global Entry requires that travelers have been pre-approved. Before being accepted into the Global Entry program, all applicants must pass a thorough background check.
Global Entry's goal to expedite travelers through the process is not to stop them from entering the United States. However, some members may be subject to further inspection when they enter the country. Any violation of these terms and conditions may result in the traveler losing their membership privileges.
A Visa Waiver Program participant must have a valid travel authorization before travelling to the United States. Travelers who have obtained a passport must submit ESTA Visa Ireland again using their passport. A processing fee will be charged for each new application.
If you have dual citizenship and are registered with ESTA Visa Ireland to USA, you can use your VWP-eligible passport to board the plane leaving your country of origin and arriving in the U.S. If both your countries are VWP-eligible, then we recommend you choose which one to claim to travel to the U.S.
If you are a U.S. citizen or a citizen of a country with a VWP, you should not apply to ESTA. To travel to the United States, naturalized U.S. citizens need to apply for and use a U.S. Passport. We know that naturalized U.S. citizens can use their passports from other countries in some cases. However, we expect you to use your U.S. passport to travel from one country (departure) and return.
IMPORTANT:
A travel authorization is normally valid for 2 years (unless your passport expires earlier). You can apply for your travel authorization at any time and do not need to have your itinerary arranged in advance.